Procurement
Marketplaces Vs. Punch-Out Selling: Which is a Better Fit for Your Business?
What is the best solution for your B2B online marketplace? In the ever-changing world of life sciences, it's critical ...
---
What is the best solution for your B2B online marketplace?
In the ever-changing world of life sciences, it's critical to implement the ideal B2B digital procurement system. An efficient setup is necessary to reduce the costs of fulfilment for the seller and eliminate unnecessary hassle for the buyer. B2B markets like biotech and pharmaceuticals now have the opportunity to leverage vertical platforms and AI-enablement to better improve their procurement processes and allocate resources more effectively.
Yet, as things stand, many enterprise e-procurement platforms take the route of a punch-out website. In the past, punch-out selling has been a staple for B2B transactions online—but is it still the best approach in terms of digital procurement?
What are e-procurement punch-outs, and why did they become so popular?
A punch-out catalog, or punch-out website, is a way for suppliers to sell their goods in a private B2B marketplace. Instead of requiring other businesses to shop through the vendor version of an e-commerce store, a punch-out enables them to shop third-party vendors through their own e-procurement platform.
In the punch-out model, the items in the buyer's shopping cart do not generate any orders while they're shopping in the punch-out version of a website—they simply shift over to the buyer's preferred e-procurement platform so that they can check out there instead. When the buyer is done and checks out, their order is generated in the buyer's procurement application.
The advantages of using a punch-out version of e-commerce sites to sell to other businesses include streamlining the B2B procurement process by remembering buyers and optimizing their user experience with increased accessibility and fulfilment speed. However, the vendor and supplier options are very limited in their selection. In addition, the shopping process can be clunky, as end users have to switch back and forth between supplier catalogs. And, adding new catalogs is a heavily manual process.
While the punch-out approach previously provided the most modern approach to B2B selling, the modern e-commerce marketplace offers a much more sophisticated solution.
What is an e-commerce marketplace and why is it better than punch-outs?
E-commerce marketplaces provide an integrated solution to buyers who want the convenience of being able to compare goods from multiple vendors without leaving their organization's internal platform. The marketplace host provides a streamlined shopping experience for the buyer, and each individual supplier is responsible for the purchase fulfillment, and many of the backend processes stay the same.
Instead of providing multiple, single vendor catalogs and requiring a shopper to checkout from one store at a time, a private e-commerce marketplace acts as a central hub so that businesses can save valuable time by making purchases from numerous vendors through a single portal. Businesses are also able to compare selections and prices across multiple vendors at once. Organizations who employ digital marketplaces are also able to update products and pricing much more quickly and efficiently.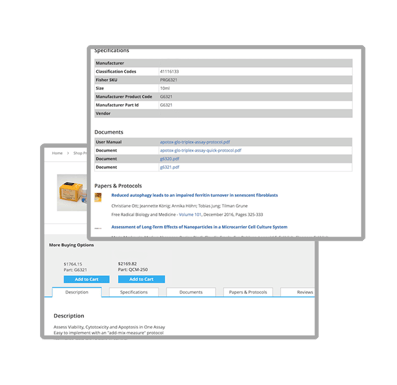 Why does this matter for life sciences?
Punch-out sites have certainly had their time and place, but users within the pharmaceutical, biotech, and research industries need to be able to procure supplies in a way that does not hinder their their—nor create vendor lock-in.
Labviva integrates with existing digital procurement software in order to provide scientists and researchers with the same product and price comparison features that end consumers already have via public websites such as Amazon. It displays laboratory supplies within the context of their citations and protocols, so that even when a substitution is required, the purchaser is able to be sure an alternative product is suitable.
Finally, Labviva provides advanced analytics that are simply not available in the punch-out model.