Siamak Baharloo
AI-Powered SaaS Is An Innovation Driver in Scientific Labs
Process Automation & Intelligent Sourcing In his 2019 report "AI-Driven Platforms Will Move Business Applications ...
---
Process Automation & Intelligent Sourcing
In his 2019 report "AI-Driven Platforms Will Move Business Applications Beyond The ERP Era", the Forrester analyst Duncan Jones discusses how the enterprise resource planning (ERP) era is becoming obsolete in the sense of have a single software suite meant to handle every process in every area of the company. Instead, more flexible SaaS will take on the specialization required for both vertical (like industry specialized purchasing) and horizontal (like billing vendor management). With AI to automate processes, platforms, not ERPs, will lead the way.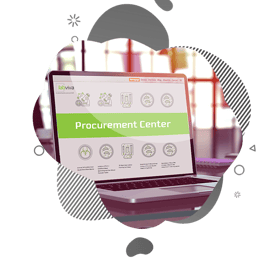 As the general public has followed the development of the COVID-19 vaccines, many people have gotten clearer sense of how complicated the ecosystem of biopharmaceutical research is. Products and solutions are often developed jointly by government, universities, and private sector.
In addition to having a dramatic impact on public and individual health outcomes, this is a nearly 200B (USD) market that is projected to grow by another 100B within the next five years. The stakes are high all around; yet players are often hesitant to partner with one another, creating division and engendering an environment that makes it hard for new products to get to market.
Driving (Not Waiting) For Change
At Labviva, we had already been working toward a vision of breaking down the barriers between the suppliers of laboratory products and the researchers who use them. After spending over two decades in the life sciences industry, I have come to believe that, as Jones suggests, it is SaaS applications that will drive this change. In the eCommerce space, much of this is accomplished through marketplaces, and in fact that's 50% of all online sales. COVID-19 gave us an occasion to further test our thesis that creating an open, multi-sided cloud-ready marketplace would enable scientific research. As large distributors, for example, ran out of research supplies, we were able to connect smaller suppliers with laboratories and hospitals to help keep everything from PPE to pipette tips in stock.
With this technology, thousands of smaller manufacturers are able to interact with large pharmas and research institutions. Before, they would only be able to do this through a distributor—cutting into margins and slowing down the supply chain.
The significance of this was relevant before the global pandemic, and will remain relevant once it has passed. Procurement managers need uncomplicated ways to supply labs without getting mired in the politics of incumbent distribution models. Researchers need to easily be able to choose reagents, chemicals, and instrumentation without worrying about purchasing processes or being exposed to vendor management concerns.
Evolution of Scientific Labs
Years ago, as a researcher myself, I was involved in a massive analytics project working with the human genome. Though not significantly larger than other animals, the human genome contains around three billion base pairs of DNA that makes up the 23 pairs of chromosomes that exist within the nucleus of all of our cells. And within those chromosomes, there are hundreds to thousands of genes. As you can imagine, this got complicated very quickly—and even today, there is a great deal we do not know about the genome.
However, it was during that time that I saw the power of software applied in a laboratory setting, and it was also why I shifted my career away from the pure sciences and into the technology sector. What we see today is how AI has taken genomic and a great deal of other scientific work, even farther. Major pharmas continue to use AI in COVID-19 vaccine research. This has created the opportunity for platforms like Labviva to gain traction in labs, accelerating the pace of discovery. With better access to supplies paired with the promise of artificial intelligence, I can't wait to see what insights are coming next.